Pemberton Holmes - Cloverdale
150 - 805 Cloverdale Ave
Victoria
V8X 2S9


let's find your new home
Search for Real Estate in and around Victoria
Residential
Any
Single Family
Half Duplex
Townhouse
Condo/Apartment
Full Duplex
Triplex
Fourplex
Mobile
Modular
Lots/Acreage
Farm
Recreational
Commercial
Any
Building Only
Building & Land
Business & Leasehold
Business & Property
Business Only
Land Only
Multi-Family
Industrial
Min Price
Any Price
$25,000
$50,000
$75,000
$100,000
$125,000
$150,000
$175,000
$200,000
$250,000
$300,000
$350,000
$400,000
$450,000
$500,000
$550,000
$600,000
$650,000
$700,000
$750,000
$800,000
$850,000
$900,000
$950,000
$1,000,000
$1,250,000
$1,500,000
$1,750,000
$2,000,000
$2,500,000
$3,000,000
$4,000,000
$5,000,000
$6,000,000
Max Price
Any Price
$25,000
$50,000
$75,000
$100,000
$125,000
$150,000
$175,000
$200,000
$250,000
$300,000
$350,000
$400,000
$450,000
$500,000
$550,000
$600,000
$650,000
$700,000
$750,000
$800,000
$850,000
$900,000
$950,000
$1,000,000
$1,250,000
$1,500,000
$1,750,000
$2,000,000
$2,500,000
$3,000,000
$4,000,000
$5,000,000
$6,000,000
!SearchBar.min!
Any
200 Sqft
300 Sqft
400 Sqft
500 Sqft
600 Sqft
700 Sqft
800 Sqft
900 Sqft
1,000 Sqft
1,100 Sqft
1,200 Sqft
1,300 Sqft
1,400 Sqft
1,500 Sqft
1,600 Sqft
1,700 Sqft
1,800 Sqft
1,900 Sqft
2,000 Sqft
2,500 Sqft
3,000 Sqft
3,500 Sqft
4,000 Sqft
4,500 Sqft
5,000 Sqft
6,000 Sqft
!SearchBar.max!
200 Sqft
300 Sqft
400 Sqft
500 Sqft
600 Sqft
700 Sqft
800 Sqft
900 Sqft
1,000 Sqft
1,100 Sqft
1,200 Sqft
1,300 Sqft
1,400 Sqft
1,500 Sqft
1,600 Sqft
1,700 Sqft
1,800 Sqft
1,900 Sqft
2,000 Sqft
2,500 Sqft
3,000 Sqft
3,500 Sqft
4,000 Sqft
4,500 Sqft
5,000 Sqft
6,000 Sqft
2993 Charlotte Dr
Bed: 4
Bath: 2
Price: $674,000
SOLD BY
Colwood Lake Estates. This updated family perfect home features three bedrooms on the mail floor and a one bedroom suite Quiet location on a tranquil byway. Newer roof, vinyl windows, interior & exterior doors, 200 amp service, furnace, kitchen cabinets, tile flooring, french doors, Multi level south facing rear deck, built in vacuum, closet organizers, and more. Enjoy the landscaped, private fenced 8710 sq.f...
Listed by Royal LePage Coast Capital - Oak Bay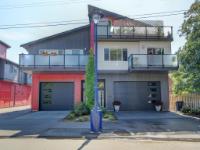 102-1021 Springboard Pl
Bed: 3
Bath: 3
Price: $525,000
SOLD
End unit in small, stylish, contemporary complex tucked away on a quiet cul-de-sac mere steps away from Florence Lake boardwalk. Three floors with unique living space on each level. Huge double garage with added finished room with loft bed and bath. Main floor has bright sunny living/diningroom and gorgeous kitchen with stainless steel appliances and white quartz countertops. Diningroom opens onto good-sized ...
5513 Parker Ave
Bed: 5
Bath: 3
Price: $2,490,000
SOLD BY
Galvanizing sunrises are yours, across the Salish Sea to Mt. Baker from this charming "walk on sandy beachfront" home. Beautifully upgraded, retaining the original charm and character, with many modern conveniences. 4/5 bedrooms with a flexible floor plan, 3 full baths. Formal living room with gleaming hardwood floors and feature fireplace. Beautiful modern kitchen with spacious pantry, and commanding water v...
Listed by RE/MAX CAMOSUN
Thinking of Buying?
I understand the relationship between buyers and their agent must be based on trust, mutual goals and understanding. This is why I always keep your interests first and foremost. The real estate process requires careful analysis and negotiation of sometimes complex issues. Throughout the process, I am committed to working in your best interests. I will help you understand the market, find the perfect home, secure the best possible price, with the most favorable terms, in the shortest possible time period.
When searching for your dream home, it's important to be well informed of the Real Estate market. To help you with this process, consider the following factors: What features do you require in a home to satisfy your lifestyle now? Five years from now? Will your needs change? What's your budget? These are decisions only you can make, but I will do everything possible to match you with your dream home.
Thinking of Selling?
I can give you up to date information on what's happening in the marketplace, as well as the price, financing, terms and conditions of competing properties. These are key factors in getting your property sold at the best price, quickly and with minimum hassle. I will ensure your property is marketed well to maximize its exposure to other real estate agents and the public. I will recommend how best to market your property to generate the most interest and potential sales opportunities. When we do receive offers on your home, I will help you objectively evaluate every buyer's proposal without compromising your goals. Throughout the selling process, I am always available to address any questions or concerns you may have.
If you're thinking of selling your home in the next year, I'd love to help you! Please get in touch so we can discuss strategy.
Allison has lived & worked in Victoria since 1983. She has more than 25 years' experience in the Real Estate industry, working with government, private organizations and individuals. Allison has extensive experience in negotiating purchases, sales, and leases of both commercial and residential properties. Her background also includes managing acquisitions, financing, construction, maintenance, renovations and disposal of corporate real estate portfolios.


Allison has a Bachelor of Commerce degree with Distinction from the University of Victoria. She is confident you will benefit from her extensive knowledge of the real estate market and her strong negotiating skills. Allison looks forward to helping you achieve your real estate goals.

In 2008, Allison received the Top New Realtor® Sales award with Pemberton Holmes Ltd. Allison has been recognized by the Victoria Real Estate Board with MLS Awards in 2011, 2012, 2013, 2014, 2016, 2017 & 2018.
Her dedication to the sellers, buyers, and developers who have become her clients has resulted in her business based 100% on referrals. She believes that communicating to keep her clients informed is one of the most important keys to the selling process.

Allison enjoys volunteering and has worked with the Victoria Immigrant & Refugee Society, the Mustard Seed Street Church, Our Place, St. John's Ambulance Dog Therapy division and she has also participated on the Community Liaison Committee and Commercial Division of the Victoria Real Estate Board.

!Home.view_full_search_screen!
Back
to top